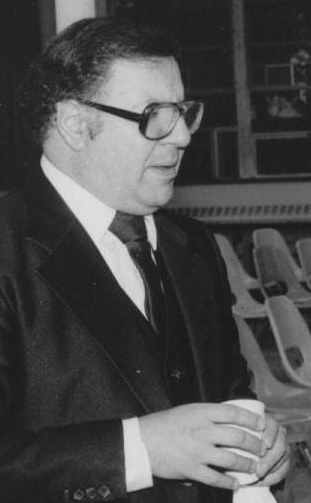 Early in my junior year of high school I was opening my American literature textbook to the proscribed page when I was jolted by a shriek that came from the front of the room. Everyone looked up and the teacher, Bro. Anthony Ambrogio, was staring at a pair of students who'd slid their desks together so one could "look on" with the other. This was not allowed in Bro. Anthony's class, and needless to say no one in my class ever forgot his book again.
Bro. Anthony
passed away a week ago
at age 76. At Savio, he was easily the most feared teacher in the school. Everyone dreaded junior year, and his class was the most orderly and intense I ever had. We had to write a many-paged paper titled "The Evolution of American Thought," which was the longest and most important assignment I had in high school..
Bro. Anthony was always intense and he wore a black suit, white shirt and black tie to class every day, but the strangest thing about him was that he was a completely different person when you saw him outside of school. I was a Boys & Girls Club member at the time and, being that both Savio and the Club were run by the Salesian order, Bro. Anthony popped in a few times while I was there. He joked and laughed, which he never did in class, and at first that caught me off-guard.
I got a letter last week from a Savio classmate of mine. There are plans for a 30th reunion in the works, and I'm sure we'll tell some Bro. Anthony stories when we get together. My, how the time does fly.
Photo courtesy EastBoston.com.