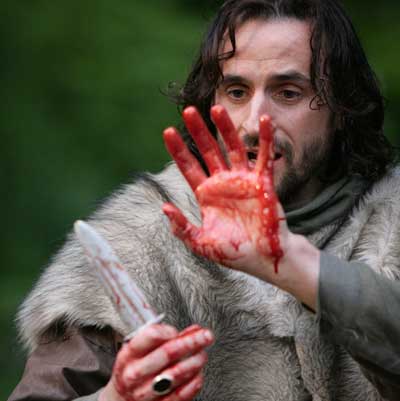 Consider, for a moment, a noble warrior who becomes consumed with ambition to the point that he casts aside the values he once believed in; when he senses that he is in reach of the seat of power he abandons all restraint and does whatever it will take to eliminate his enemies and to solidify his control. Consider, also, a scheming, amoral woman at his side.
Who is it that you see? William Shakespeare wrote
Macbeth
just over 400 years ago, and it is arguably his most frightening work. The Scottish general who lusts after the throne becomes ever-more consumed with naked ambition as his wife encourages his terrible deeds.
It occurs to me that there are clear parallels between the play and the actions of John McCain. Of course, there are no blood-filled scenes, but "the Thane of Arizona" has clearly sacrificed principles that he seemed to embody back when George W. Bush was doing the smearing and lying. One can imagine a rendezvous with three witches who told McCain that they've seen the future and he can be president -- but only if he is willing to do whatever it takes.
Meanwhile, central casting appears to have been a bit unsatisfied with Lady McCain in her role, so they sent us Sarah Palin, who we can easily imagine grabbing a bloody dagger to finish what her partner began -- just as though she were gutting a moose. In Shakespeare's work, however, guilt consumes Lady Macbeth. Palin does not seem to possess a conscience, and therefore will likely never feel remorse.