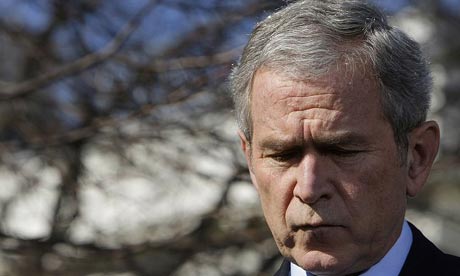 The always-thorough Glenn Greenwald of Salon.com
lays out a seemingly irrefutable case
as to why the incoming administration
must
investigate and hold the Bush Administration accountable for violating US and international law by torturing people in the aftermath of 9/11.
New York Times columnist Paul Krugman
weighs in similarly
, but expands the notion to a widespread inquiry into a number of areas (going to war, warrantless wiretaps, politicizing the Justice Department, the response to Hurricane Katrina, the financial crisis) where incompetence and criminality may have taken place.
The desire to hold a mirror up to the past eight years and to punish this arrogant collection of rascals is strong, but doing so would undermine Barack Obama's attempts at shelving partisanship and could derail much of what he hopes to accomplish. The president-elect has said, "I don't believe that anybody is above the law," but he's followed that with "...we need to look forward as opposed to looking backwards."
Tomorrow, Obama will take an oath to "preserve, protect and defend the Constitution..." If he pushes aside a complete and just accounting of the Bush Administration in order to keep the mood in Washington, and around the country, positive, is he trampling on that oath? Is he allowing some people to get away with being above the law?
Krugman writes: "So Mr. Obama should reconsider his apparent decision to let the previous administration get away with crime. Consequences aside, that's not a decision he has the right to make."